Shemesh - Winter Camp 2020 מחנה חורף
שבט שמש - מחנה חורף 2020
המחנה שכולם מחכים לו אוטוטו מגיע...
מחנה חורף 2020 צה"ל
במהלך המחנה, החניכים ישתתפו בתחרויות, פעולות ומשחקים בנושא הישראלי ביותר - צ.ה.ל
צופיות, חיק הטבע , מעברי דרגות, פסטישמש בנושא להקות צבאיות, ועוד המון הפתעות!
סוף שבוע של פעילויות כיפיות, אטרקציות, ארוחות טעימות, מלא כיף עם כל החברים באווירה חורפית מחוץ לעיר
~ אל תפספסו את ההזדמנות לתת לילדכם חוויה שתישאר לכל החיים ~
המחנה יתקיים ב- Chapel Rock בפרסקוט , כשעתיים מסקוטסדייל בין התאריכים: 10-12 בינואר 2020
המחנה יאובטח בלילות על ידי ההורים המלווים (יוצאים איתנו הורים מלווים שאחראים על ביטחון, עזרה ראשונה חיבוק והמון אהבה). הלינה במיטות קומותיים במבנים מחוממים, כלל השבט ילון בבניין אחד, לפי מגדר וקבוצות וכל קבוצה מלווה ע"י המדריכים\ות שלה.
פרטים נוספים (תשלום, איסוף, רשימת ציוד ועוד) יסופקו לנרשמים
~ אל תחכו - רשמו אם ילדיכם היום (REGISTER NOW בראש ותחתית העמוד) ~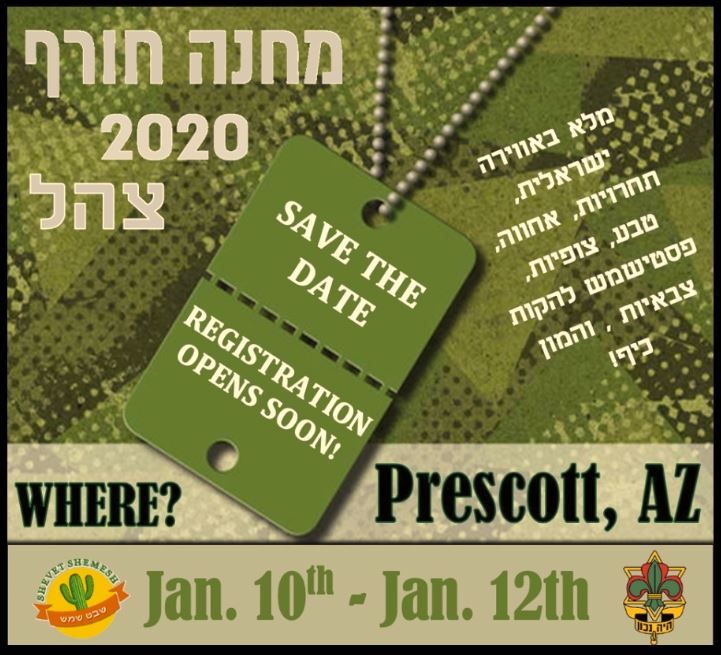 Machane Choref 2020 - are you ready?
Shevet Shemesh Winter Camp is around the corner
2020 Tzahal (IDF themed)
During Machane, Chanichim will participate in fun activities, competitions, Peulot and game in the most Israeli theme - Tzahal - the I.D.F.
Scouting, Outdoors activities, Pesti-Shemesh and more surprises await our Chanichim and Madrichim! This will be a weekend for the books with tons of fun, food, a special attraction and lots of fun with friends and the Shemesh Family!
~ Don't let you kid miss on this life time memory ~
Camp will be held at Chapel Rock in Prescott, about 2 hours from Scottsdale between Jan 10-12 2020. Camp is secured, the kids will sleep in bunkbeds in heated cabins with their own group and their Counselors
Additional details will be sent via email upon registration completion (using the REGISTER NOW button below)
~ Don't wait - register your kids today ~

See Shevet Shemesh Visit Shevet Shemesh Website

Keep up with Shevet Shemesh
When
January 10th, 2020 12:00 AM through January 12th, 2020 12:00 AM
Location
Chapel Rock, Prescott




1131 Country Club Dr.




Prescott

,

AZ

86303




United States
Camp Fee(s)
| | |
| --- | --- |
| Event Fees | |
| This is my first child | $ 200.00 |
| This is my second / third child | $ 190.00 |
| My child is Shachbag (grade 10-12) | $ 190.00 |
| Donate to Shevet Shemesh | |
| I would like to donate | $ 15.00 |
| Not today | $ 0.00 |